Every C-AVSM4 Ensign Water Softener has a built-in automatic salt monitor which means it's the only water softener that automatically checks the salt level itself and lets you know about 7 days before it actually runs out of salt.
There's no fiddly buttons to remember to press here, the Ensign remote salt monitor and brine tank LED light are reliable, time-tested and completely automatic.
It provides a discrete bleep with adjustable volume and gentle blinking LED when your water softener actually needs refilling with salt within the next 7 days. Also it lights up the brine tank with a high efficiency LED light so you can see what's going on and turns itself off when you are done.
I think the remote salt monitor is a pretty smart idea for a Water Softener that's out of sight behind closed cupboard doors.
In fact, it leaves those mechanical block salt water softeners in the dark ages!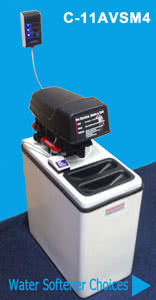 A wise person once said ...

Owning a Water Softener without a salt monitor is rather like owning a car without a petrol gauge, because you'd never be quite sure when it´s going to run out and let you down.