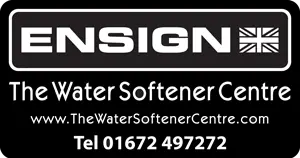 .
Water softener products and services, served with integrity and a lifetime of on-site customer support since 1982
My Water softener trade-in service
IN A NUTSHELL
Your old ion exchange water softener is worth £385 when used as a trade–in against a new Ensign Water Softener. This is regardless of it's age or condition.
Pay £240 on installation. Then pay the balance over a further 12 months by DDR. Interest free. 0% APR.
This is a brand new, full spec unit with on-site warranty
No catch
Example
Premium
Model
Price
Less
Trade-In
My Price £
Deposit £
£ Monthly DDR for 12 months
0% APR
C−6AVSM4
1219.00
385.00
834.00
240
49.50
C−11AVSM4
1260.00
385.00
875.00
240
52.92
C−15AVSM4
1299.00
385.00
914.00
240
56.17
C−20AVSM4
1340.00
385.00
955.00
240
59.58
Connection to existing site & enviromental disposal
£62.40
5 x 10Kg tablet salt delivered, worth £39.90 included free
£0.00
Delay
Trade-in water softeners are currently running a waiting list due to current demand. Sorry!
Prices are inclusive of VAT @ 20%
Prices include all parts and labour
No hidden costs
Usual social distancing restrictions apply
The next step
If your considering trading-in, let's talk. Phone now on 01672 497272 and we'll make some arrangments to suit you. This is because we'd like to have a quick look at the site first. It will ensure a smooth trade-in or upgrade process without any hitches.
If you are not sure just sent us an email and we'll be pleased to help. Just click here.
March 2021