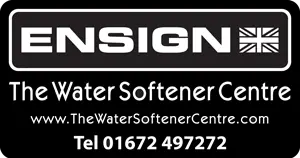 .
Water Softener Maintenance, Salt and Sales from an Independent family run OEM business uninterrupted since 1982
My home site survey and written fixed price quotation
When you have our brochure and you'd like some advice about the possibility of a water softener in your home, we come to you. We will advise on suitable softener sites and discuss any aspect of water softening.

There is no cost and no obligation. Site surveys are arranged to fit in with you and can be daytime, evenings or Saturdays. Absolutely no commission based salesperson and no pressure: guaranteed.

Although there's a lot more involved in a water softener installation than most people realize, the Marlborough factory has accumulated an unparalleled depth of installation knowledge since Ensign first started in 1982.

We often show prospective customers how it can be done when others have said it can't be done.

Contact us last, you'll be glad
you did.
1 WATER SOFTENER BROCHURE WITH PRICES
3 Complete this form and we'll get right to it
4 Please note. Installation leadtimes are significantly increased at this time due to demand. Sorry.
Free Home Site Survey and Quotation Request
Weekdays Daytime, Evenings and Saturdays.