You are here > Home > Salt supplies homepage > Salt prices
Delivery and collection prices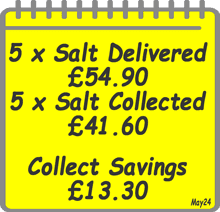 Discounted Tablet Salt Collection Price
10Kg Tablet Salt
Number of bags
Total weight Kg
Price per Kg
Total price £
1
10
0.450
4.50
2
20
0.445
8.90
3
30
0.440
13.20
4
40
0.435
17.40
5
50
0.430
21.50
10
100
0.425
42.50
15
150
0.420
63.00
20
200
0.415
83.00
25
250
0.410
102.50
Current prices as at Feb 2019 inclusive of VAT @ 20%
Discounted Block Salt Collection Price
8Kg Block Salt
Number of bags
Total weight Kg
Price per Kg
Total price £
1
8
0.7750
6.20
2
16
0.7688
12.30
3
24
0.7625
18.30
4
32
0.7563
24.20
5
40
0.7500
30.00
10
80
0.7438
59.50
15
120
0.7375
88.50
20
160
0.7313
117.00
25
200
0.7250
145.00
Current prices as at May 2018 inclusive of VAT @ 20%
COLLECTION SALT SAVINGS HERE
Ensign - The Water Softener Centre
Unit 6 Hertford Court
Marlborough Business Park
Marlborough
Nr Swindon SN8 4AW
United Kingdom
Tel 01672 497272



Free Parking here & complimentary carry and stack in your car service.

Comprehensive local street map and directions.
Open: Mon-Fri 8:00-17:00, Sat 9:00-13:00. Telephone: 01672 497272
Tablet Salt Delivery Price
10Kg Tablet Salt
Number of bags
Total weight Kg
Price per Kg
Total price £
10
100
0.660
66.00
15
150
0.655
98.25
20
200
0.650
130.00
25
250
0.645
161.25
40
500
0.645
258.00
Current prices as at May 2018 inclusive of VAT @ 20%
Block Salt Delivery Price
8Kg Block Salt
Number of bags
Total weight Kg
Price per Kg
Total price £
10
80
0.9375
75.00
15
120
0.9313
111.75
20
160
0.9250
148.00
25
200
0.9188
183.75
50
400
0.9125
365.00
Current prices as at May 2018 inclusive of VAT @ 20%
SALT DELIVERY AREA

1st. Check if we can deliver salt to your area
with our online postcode checker, then ..

2nd Click the red buy SALT here button below.
We think the 10Kg size is so good we want you to try some when you next purchase your water softener salt.
We think you'll like it.
It's very easy to fill the softener with the 10Kg size and has a carry handle.
It's produced to an International food grade quality ISO 9001.
It's widely available from different suppliers so you won't be tied to just one source.
Nowadays, it costs similar per Kg to buy an equal weight in 10Kg bags rather than the older 25Kg bag size.
It can be used in all types of water softener.
It costs a lot less than block salt!

You wouldn't drive a car without a fuel gauge would you? Then why own a water softener without a salt monitor... (more)