You are here > Home > Salt supplies homepage > Block salt tablet salt comparison
8kg Block salt and 10kg Tablet salt comparison data
Tablet salt
Block salt
Pack size
10Kg bag with handle
8kg pack with handle
Price per kg
delivered: May 2018
66p per kg
93.75p per kg
Physical form
Compacted salt: multiple tablets in each bag, easy to handle.
Compacted salt: 2 x 4Kg bricks in each pack, easy to handle.
Effect in water softener
Dissolves and becomes brine
Dissolves and becomes brine
Rate of consumption
Same
Same
Availability
Multiple sources available nationwide
Kinetico™ dealers and Harveys™ block salt dealers only

Here's a little known fact:
You can use block salt in a tablet salt water softener and you can use tablet salt in a block salt softener.

Tablet salt is consumed at the same rate, does exactly the same job in the water softener and costs a lot less than block salt.
The real difference between the two types of salt is just marketing. We know, we sell them both at Ensign - The Water Softener Centre.

We supply more tablet salt than block salt nowadays. Deliver my water softener salt here.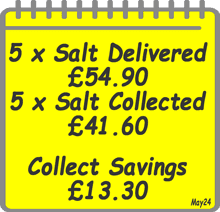 You wouldn't drive a car without a fuel gauge would you? Then why own a water softener without a salt monitor... (more)