You are here > Home > Salt supplies homepage > Recommended salt
Recommended salt
Why struggle
with the weight of 25Kg bags of salt or the price premium of block salt ?


IMPORTANT
Since all water softeners actually use a brine solution, not dry salt in their recharge process, they can't actually tell the difference between block salt or tablet salt. So like all water softeners, the Ensign machines can use all types of salt; tablet salt and block salt.

However since 1998, water softener salt has been available in the 10Kg bag size, which is popular, very convenient for the user to handle and is increasingly taking over from the traditional heavy 25Kg bag size.

TIP: We think the 10Kg size is so good we want you to try some when you next purchase your water softener salt. We think you'll like it.



Salt types
Meaning
Block Salt:
8Kg pack
Compacted salt in the form of a single 4Kg block the size of a house brick. Sold in 8Kg polythene packs. Can be used in all water softeners. Easy to handle.
Tablet Salt:
10Kg bag
Compacted salt in the form of multiple 2cm tablets. Introduced 1998. Sold in 10Kg polythene bags with handle. Can be used in all water softeners. Easy to handle.
Tablet Salt:
25Kg bag
Pre 1998 size.
Increasingly redundant size caused by the introduction of the 10Kg tablet salt size.
Granular Salt:
10Kg bag
Redundent low density salt. 1.0mm to 3.5mm crystals.
Not recommended for modern water softeners after 1988. Increasingly less popular and very messy in use.


Got a Block Salt Softener?
This is simply a water softener in which the manufacturer promotes the use of premium priced block salt only. In reality it can use tablet salt as well but the customer is obliged into expensive brand loyalty by a rather unfair claim that their warranty 'might' be voided by the use of any other brand of salt. Ouch!

For today's water softener owner, our experience leads us to thoroughly recommend the bags of specially produced 10kg tablet salt for your water softener. This simply because:-
It's very easy to fill the softener with the 10Kg size and has a carry handle.
It's produced to an International food grade quality ISO 9001.
It's widely available from different suppliers so you won't be tied to just one source.
Nowadays, it costs similar per Kg to buy an equal weight in 10Kg bags rather than the older 25Kg bag size.
It can be used in all types of water softener.
It costs a lot less than block salt!
Did you know that more and more people use the 10Kg tablet salt than the old 25Kg bags these days?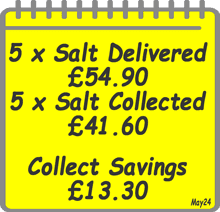 You wouldn't drive a car without a fuel gauge would you? Then why own a water softener without a salt monitor... (more)