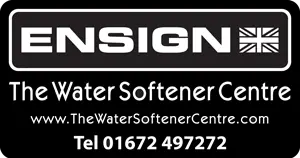 .
Water Softener Maintenance, Salt and Sales from an Independent family run OEM business uninterrupted since 1982
My Water Softener Home Trial with 100% Rebate
IN A NUTSHELL
Rent for 3 months to evaluate an Ensign C-11AVSM4 Water Softener in your home @ £21.00 per month inc vat
Then option to purchase with a 100% rentals paid rebate off the original purchase price
Option to Pay the balance over a further 9 months by DDR. Interest free. 0% APR
Brand new, full spec unit with on-site warranty
No catch
Water Softener 3 month rent and evaluate Home Trial service then option to purchase with 100% rentals paid rebate and a further 9 months interest free credit. 0% APR
Ensign Water Softeners are rented on a month by month basis. The rental payments are by DDR with £95 held as a refundable deposit. Minimum rental is 1 month.
After 3 months you have 3 choices

1

Contact us and give it back

2

Purchase your water softener With 100% rentals paid rebate and a further 9 months interest free credit. 0% APR

3

Carry on renting with all the advantages for peace of mind
Rental Service Advantages

1

Keep your purchase money in your bank, not ours

2

Salt delivered at Concession anytime. 10x10Kg tablet salt delivered £84.30, 10x10Kg tablet salt (rental) delivered £74.30

3

Continuous never ending warranty

4

Nil price increases, ever
Example
Model
Rental and then option to purchase with interest free credit. 0% APR
C-11AVSM4
Rent for 3 months @ £21.00 per month
Then option to purchase over a further 9 monthly payments of £133.00
=£1260.00. 0% APR.
All prices include VAT @ 20%
Professional fixed price installation with softener
Pipe size
Installation £
inc vat
15mm
345.00
22mm
345.00
28mm
345.00
Fixed price, professional installation by Ensign installers includes
Routing all water and waste connections as required
Siting water softener on ground floor
Hard water mini tap in chrome
5 x 10Kg tablet salt delivered and stacked free. Worth £47.80.
All parts and labour
No hidden costs
Installations must be purchased.
September 2023