You are here > Home > All about Water Softeners >
Outside water softener installation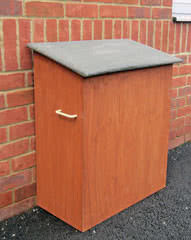 Where space is very limited, we can fit your water softener outside in a special frost proof enclosure as an optional extra.

Frost boxes are made from an exterior grade plywood, treated with a light wood preserver with felt top, plastic handles to ensure easy removal and refit and lined with 25mm polystyrene to ensure a trouble free operation.

A backing frame is secured to wall and the cover simply clips over with a single point fix into the frame. This ensures a draft free protection for your water softener. Do they freeze in the coldest winter; no they certainly do not. You can paint them to fit in with your garden decor or leave them in their natural colour.


Specification.
Dimensions
width 61cm
depth 30cm
height 76cm
You wouldn't drive a car without a fuel gauge would you? Then why own a water softener without a salt monitor... (more)
established 1982