Pre and post sales support services :
You are here > Home > Pre and post sales support services > Salt delivery service

First introduced in 1984, the Ensign Salt Delivery Service is trusted by more and more people to deliver a reliable and efficient service come rain or shine.

We can leave your salt in a nominated place so that you don't have to be at home to receive your salt delivery by Ensign.

If you've in, we'll put it where you normally store your salt, whether that's in the garage, the shed in the back garden or the top floor of your apartment block: no problem.



The benefits of the Ensign salt delivery service
Delivered and stacked for you in your nominated usual place.
Speedy service, delivered in all weathers. Let us do this chore for you.
Nil surcharges for debit or credit cards.
Orders taken by telephone 01672 518040 (24hour anserphone), or online at the Ensign web shop here.
Why struggle
with the weight of 25Kg bags of salt
or the price premium of block salt ?
Did you know that ...
More and more people use the 10Kg bags of salt
these days. Here's why
Some prefer it's convenient size and carry handle.
Some because it takes up exactly the same storage space weight for weight.
Some because it costs a lot less than block salt.
Some simply because it's a lot easier to fill your softener with the new 10Kg bags of salt.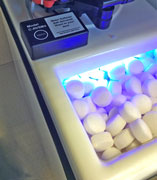 10Kg salt is so easy even a child could do it
You wouldn't drive a car without a fuel gauge would you? Then why own a water softener without a salt monitor... (more)
established 1982